Powerful and dynamic, GYROTONIC® will introduce you to muscles you didn't even know you had.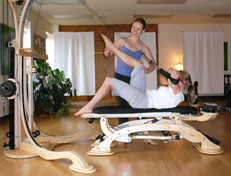 Founded on the key principles of yoga, martial arts, gymnastics, and ballet, this new, innovative exercise is gaining popularity with fitness buffs, golfers, dancers and those recovering from injury. GYROTONIC® stretches and strengthens muscles and the connective tissue around your joints. Its powerful system of gentle, fluid movement increases endurance, balance, flexibility and coordination. It challenges your body to move in ways it never has before.
What sets it apart from current fitness regimes is that GYROTONIC® exercises are performed on specialized equipment designed around the human body. It uses circular movement, rather than the linear, isolated movement of conventional machines. Muscles flow smoothly between contraction and extension, bridging the gap between action and recovery. Muscles also are moved in their full range of motion and multiple muscle groups are engaged simultaneously.
Adding patterned breathing to the movement gently (or vigorously) stimulates your cardiovascular system. Special attention also is paid to increasing the flexibility of your spine, so your body becomes more well-proportioned and less prone to injury.
A single GYROTONIC® session can relieve muscle stress, increase energy and make you more aware of your whole body. After a few weeks of training, you will feel a difference in strength, freedom of movement and an overall sense of well being.
Fees:
Introductory: $70
Single Private: $80
5 Privates: $375
10 Privates: $700
20 Privates: $1350
90 minute sessions:
All sessions require a reservation.
Cancellations within 24 hours of scheduled appointment will be charged.
GYROTONIC EXPANSION SYSTEM®, GYROTONIC®, and GYROKINESIS® are registered trademarks of Gyrotonic Sales Corp and are used with their permission.