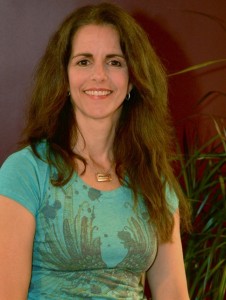 Sally Ellis Delozier, originally from Chicago, Illinois, attended Stephens College in Columbia, Missouri, where she received a bachelor's degree in Fine Arts in Dance. She began teaching jazz dance in Kansas City in 1986. She has taught at the State Ballet of Missouri, the Ibsen Dance Center, and the Westport Ballet.
Sally began studying yoga locally with Arielle Thomas Newman, Patricia Gray, and Kathleen Kastner, and continues to further her studies with nationally regarded teachers including Max Strom, Shiva Rea, and Erich Schiffmann in Los Angeles. Workshops with Judith Lasater have also influenced her teaching style.
Sally teaches Hatha yoga, with an emphasis on Vinyasa style (flowing with the breath from one pose to another). Her goal as a teacher is to help her students create balance between the inner and outer worlds through the physical practice of asana (poses) and meditation.
She is currently developing a class blending yoga and dance, which she calls Freedom Dance.